The Sunturi Keto Pad Thai Noodle Kit offers a nutritious and tasty alternative to the traditional Pad Thai dish. Inspired by the celebrated Thai street food, this kit accommodates dietary preferences with its gluten-free, vegan, and low-carb content, making it suitable for those on a ketogenic diet. With its focus on providing a quick and convenient meal, it brings a healthy option for consumers seeking easy and fast cuisine without compromising on taste and quality.
Zero Carbs just like Konjac, but with Better Taste
This noodle kit uses Sunturi's unique Vegan Zero Carb Keto Noodles and is made with plant-based soy protein and marine algae. This gives it a rich flavour and texture that is smoother and less rubbery compared to Konjac noodles. The result is a zero-carb noodle that tastes just like regular noodles!
Features and benefits of the product include:
Low-Carb Noodles Kit: With only 6g of carbs per serving, this keto noodles kit is designed to provide a healthier alternative to traditional Pad Thai.
Low Calories: With only 110 calories per serving, this meal fits into a calorie-conscious diet.
Gluten-free: Perfect for those with dietary restrictions, as it contains no gluten.
Vegan: Composed of completely plant-based ingredients, it's suitable for vegan diets.
Quick Meal: A convenient option for those looking for a fast and easy-to-prepare meal.
Cooking Instructions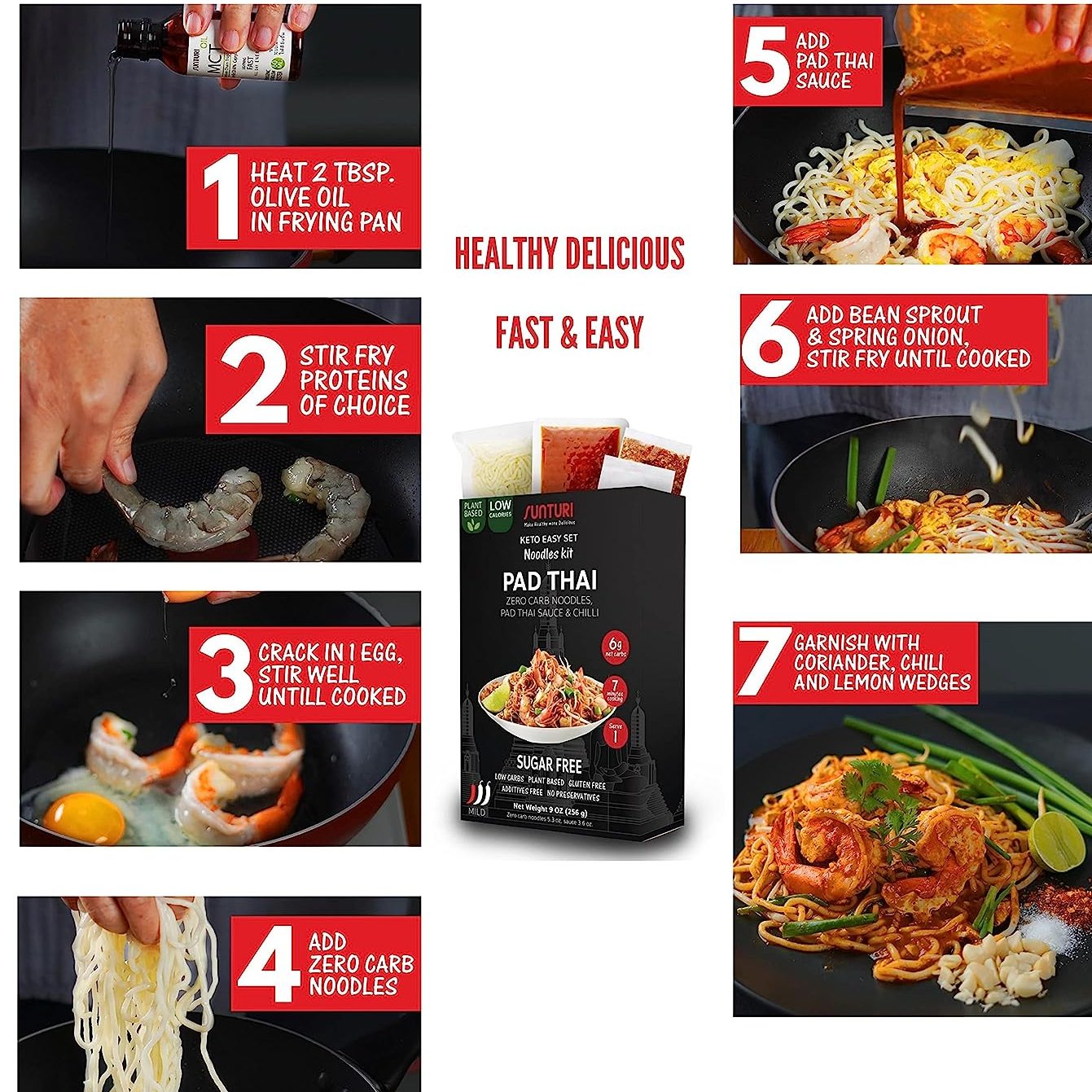 Product Details
INGREDIENTS: Plant Zero carb noodles ( Water, soy protein powder, marine algae extract, xanthan gum), Pad Thai sauce (Tamarind juice, gluten-free soy sauce, olive oil, paprika, dried chillies, shallot, garlic, stevia extract, erythritol, sea salt, xanthan gum) Packet include erythritol, red pepper.
ALLERGEN INFORMATION: Contains Soybean.