Lakanto
Lakanto is a featured brand on Ketogrocer, offering a range of sugar-free products including Monk Fruit Sweeteners, dark chocolate peanut spread, and sugar-free peanut butter. Catering to health-conscious individuals and those on a ketogenic diet, Lakanto's products are praised for their quality, taste, and benefits for weight loss and diabetic patients. Explore the sweetness without the sugar with Lakanto's collection on Ketogrocer.
Show Filters
Reviews for Lakanto

Quality product beneficial for healthy & diabetic patients
Delivery right on time
Tq Seller 👍🏻
4 months ago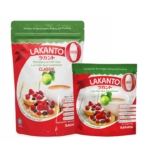 Lakanto Monk Fruit Sweetener Classic

Been using Lakanto for a while now... Anyway this is my 1st time getting 1kg Lakanto here..really can save more👍🏻👍🏻trusted seller👍🏻👍🏻
4 months ago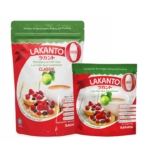 Lakanto Monk Fruit Sweetener Classic

Tastes just like real sugar but with zero calories, doesn't taste like stevia... and it's really effective for weight loss, trying this for the second time... ❤️😍
4 months ago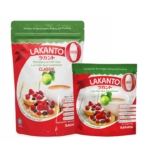 Lakanto Monk Fruit Sweetener Classic
FAQs
1. What is Lakanto?
Lakanto is not just a brand; it's a lifestyle choice for those seeking sugar alternatives that align with a healthier way of living. Originating from Japan, the brand Lakanto has gained international acclaim for its sugar substitutes that cater to a variety of dietary needs. Primarily known for its Monkfruit Sweeteners, Lakanto aims to offer a zero-calorie, zero-glycemic alternative to sugar.
2. Where is Lakanto Monk Fruit Sweetener Made?
Although it has gained popularity in various parts of the world, including Malaysia, the origins of Lakanto trace back to Japan. The sweeteners are created following traditional Japanese methods for extracting monk fruit sweeteners, which have been used for centuries in Eastern medicine and cuisine.
Lakanto collaborates with local farmers in the mountainous regions of China and Southeast Asia to source the highest quality monk fruit. This collaborative effort ensures the fruit's purity and potency, making Lakanto products a premium choice among health-conscious consumers.
3. What is Monk Fruit?
Monk Fruit, also known as Luo Han Guo, is a small melon native to Southeast Asia. It's used as a natural sweetener in Lakanto products, providing sweetness without the calories of sugar.
4. Are Lakanto Products Keto-Friendly?
Yes, Lakanto products are designed to be keto-friendly, making them suitable for those following a ketogenic or low-carb diet
5. Are Lakanto Sweeteners Safe for Diabetics?
One of the most compelling reasons to consider Lakanto as a sweetener is its potential benefits for diabetics. Due to its zero glycemic index and zero net carbs, Lakanto does not cause spikes in blood glucose or insulin levels. This makes it a safer option for those managing diabetes.
However, it's important to remember that individual responses to sugar substitutes can vary. If you are diabetic, it is advisable to consult your healthcare provider before making any significant changes to your diet.
6. Is Lakanto an Artificial Sweetener?
One common misconception about sugar substitutes is that they are all artificial sweeteners, often made from synthetic ingredients. Lakanto sets itself apart in this aspect. It's derived from natural sources—monk fruit and erythritol—making it a natural sweetener rather than an artificial one.
Both monk fruit and erythritol have been approved for use as food additives by health organizations worldwide, adding to Lakanto's credibility as a safe, natural option.
7. How Do I Use Lakanto Sweeteners?
Lakanto sweeteners can be used as a 1:1 substitute for sugar in recipes, beverages, and cooking.
9. Are There Any Side Effects of Using Lakanto Products?
Lakanto products are generally considered safe for consumption. However, individual reactions may vary, and those with specific dietary concerns should consult with a healthcare provider.
9. Can I Use Lakanto Products If I'm Allergic to Sugar Substitutes?
Lakanto products are free from common artificial sweeteners, but it's essential to check the specific ingredients and consult with a healthcare provider if you have known allergies or sensitivities.
10. Does Lakanto Have an Aftertaste?
No, Lakanto does not have an aftertaste. Unlike some artificial sweeteners that leave a metallic or bitter aftertaste, Lakanto is generally well-received for its clean, sweet finish.